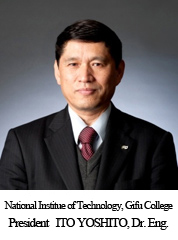 Welcome to the official web site of Gifu National College of Technology.
In April, 2004, 55 national colleges of technology out of 63 colleges of technology nationwide were brought together to form the Independent Administrative Institute of National Colleges of Technology Japan. Now 51 national colleges of technology with about 5,300 students have been rebuilt nationwide. Since Colleges of Technology are abbreviated as "Kosen", our college is the only "Kosen" in Gifu Prefecture. Consequently, Gifu Kosen has been re-established as a member of this newly formed Institution.
A "Kosen" is an institution of higher education, including colleges and universities. It accepts junior high-school graduates, and provides a five-year education in one of the technological concentrations. At a Kosen, students can concentrate on the study area that they major in, as they do not need to prepare for college entrance examinations. After the completion of the program, Kosen graduates may choose to begin a career as an engineer and play an active role in the fields of Industry and Engineering. They can also choose to continue their education at our "Senko-ka (Advanced Courses)" for two more years in pursuit of their bachelor's degree. Furthermore, they can also take examinations for admission as a third-year transfer student to an undergraduate program of the University of their choice.
At Gifu National College of Technology, the aim of "the product design" is at the core of our engineering studies. Through our intensive curriculum, students acquire the advanced technical skills in order to enrich their education. While it is vital for Japan to continue to contribute to the world in the areas of high technology and information technology, international training of those who acquire advanced technical skills will become ever more critical as well. Gifu National College of Technology is the only school in Gifu prefecture to be authorized under the evaluation of JABEE, which conducts authorization in view of the world standard for tertiary level education system.
Our college has five departments: Mechanical Engineering, Electrical and Computer Engineering, Electronic Control Engineering, Civil Engineering and Architecture. Concerning the specific characteristics of each department, please refer to the guidance section of this homepage. Each department attaches as much importance to computerization as to fundamental knowledge. Computer literacy and practical English, in addition to the special technological concentrations offered during the five-year education term, are the necessary passports to the highly-developed, information-oriented society of the twenty-first century.


---
Entrance Ceremony Speech (2019) National Institute of Technology, Gifu College


Welcome to National Institute of Technology, Gifu College (Gifu Kosen). We have fully blooming weeping cherry blossom at the entrance to celebrate today. I congratulate and welcome you and your family to be here in Gifu Kosen as a representative of faculty and staff members. We are happy to have you as new members of our college.

Today, 208 students entered to the five regular courses. 42 students entered at Department of Mechanical Engineering, Electrical and Computer Engineering, Electronic Control Engineering, and Department of Civil Engineering, and 40 students entered Architecture. In addition, one 3rd grade international student, one 4th grade student and 36 advanced course students entered. We have total of 246 new students entered our college today. Again, we all faculty and staff members welcome all new students.

The regular course students had just graduated from junior high-school and entered to Gifu Kosen. You became Kosen students. If you entered high school, you will be called "seito." However, we call you "gakusei" here in Gifu Kosen that is same as university students. The reason is you carry out practical and technical education as well as general education independently, and we expect you to act responsively and awareness as Gifu Kosen students.

At Gifu Kosen, you may not only learn general education and technical education but also give research presentation to progress and improve an ability of academic and engineering areas by professors' supports. In order to spend sound student life , health is very important to you. Health is the most important factor of the sound student life. It is very simple to live healthy. You should keep ordered your lifestyle, such as sleep well, having a well-balanced breakfast, and attend from the first class in the morning. I am quite sure that if you continue this simple daily routine until your graduation, you will live healthy and keep the sound student life.

It is my 4th year to be a president of Gifu Kosen from Nagoya University. I had experienced a lot last three years as a president, and I would continue making effort to improve education, research, and social contribution. Moreover, I exert to improve practical extracurricular activities such as club activities, national competitions and contests. When you graduate from Gifu Kosen, I sincerely hope you find it worth to study here in Gifu Kosen. I will request you to create new tradition of Gifu Kosen with us and to add another history to previous 56 years tradition.
I advise and request you three things based on my student experience 40 years ago and my researcher and professor experience since then.

First of all, please endeavor to greet people properly. You are expected to be an engineers, but it is very important to cultivate communication skills and greeting is an introduction to communication. Students have to greet everybody not only faculty and staff members and guests but also other students. Please greet to everybody spontaneously.

Secondly, since you are in the impressionable student age, I recommend you to be interested in everything and try positively both study and other activities. You will study engineering, but it is important to expose to sports, arts and nature. One of my interests is bird watching and I am Aozora member of Wild Bird Society of Japan. I observed about 20 kinds of birds, such as oriental greenfinch, bulbul, dusky thrush, white wagtail, Japanese wagtail, titmouse, Japanese white-eye, shrike, Japanese pygmy woodpecker, egretta garzetta, ardea cinerea, phoenicurus auroreus, and goshawk around Gifu Kosen last year. Dusky thrush and oriental greenfinch were often found in campus this season, but I found them less than usual this year. You may enjoy bird watching if you can distinguish birds singing during breeding season, this sounds called "song" in English, and different way of birds' voice which is called "call" in English as well as visual aspect. Only male bush warbler sings "warble," but both male and female bush warblers call "chirps" during winter. Please enjoy nice nature environment in this campus.

It is good to take an interest in everything. I recommend you to read books other than school texts or technical books to educate yourself. Culture is not just a knowledge but it gives you zest for living. I had worked as director at Nagoya University Library for nine years, and more than 30 percent of students answered a survey that they did not read books which were not related to their study. According to research among 10 thousands students from 30 universities, more than 50 percent students read books zero minute. On the other hand, only 0.8 percent of students do not use smart phone. I don't say smart phone is not good for you, because you may use it like world library in your hand. You can re-experience what authors go through and obtain knowledge by reading books. Moreover it helps you broaden your mind and acquire ability to think.

Thirdly, I encourage you to meet many good friends while you are a student so that you find friends who can share feelings of values and become your lifelong friends. I have many friends from high-school, undergraduate and graduate school. These friends are very important lifelong friends. It is different that you may meet friends after you graduated from school. If you face to a problem or unable to decide, you should organize yourself and think deeply. Then, you had better to talk to your friends as well as faculty members, counselors and parents. Friends will be very precious to you.

At the end, I will explain active learning and its result visualization. Gifu Kosen that is higher educational organization has selected to promote active learning, which is a part of Educational Acceleration Program (AP) by Ministry of Education, Culture, Sports, Science and Technology for six years project since 2014. Word "active learning" does not have particular definition, yet it is not just teachers lecture to students but students actively participate in learning. Students participate in classes independently and study interactively and deeply. Students acquire abilities to find problems as well as earn knowledge; moreover, they should develop corresponding to new social changes.
Consider conception ability of life, that is, to think how you plot your life always. Furthermore, you always consider how you live your life which is only one time and study positively.

We all faculty and staff members will support your comfortable and healthy student life. I will repeat again, I will try hard for you to enjoy your student life here. I hope you will find it worth to study here in Gifu Kosen.
Congratulations on your admission to Gifu Kosen today.

April 3, 2019
National Institute of Technology, Gifu College
President Yoshito Itoh

---
Graduation Ceremony Speech (March, 2019) National Institute of Technology, Gifu College


This beautiful early spring day, we all faculty and staff members are pleased to have the graduation ceremony of Gifu Kosen with guests, parents, and all the parties concerned. I congratulate graduating or completing students and their family on their graduation behalf of faculty and staff members of Gifu Kosen. We are happy that you graduate from Gifu Kosen and you start out in life.


196 regular course students graduate and 38 advanced course students receive diploma today. 39 students from Department of Mechanical Engineering, 42 students from Electrical and Computer Engineering, 40 students from Electronic Control Engineering, 38 students from Department of Civil Engineering, and 37 students from Architecture will graduate including 4 international student today.


All graduating students would have precious experiences extracurricular activities as well as general and technical education in Gifu Kosen for 5 or 7 years. About 3 years passed since I became a president of Gifu Kosen. I had many precious experiences during 3 years and the experience was different from my 40-year teaching experience at Nagoya University. I proud of all students initiatively manage Kosen-sai. The exhibitions and presentation of five regular courses were excellent. Many students and faculty members actively participated National institute technology design contest which was promoted and held by Gifu Kosen at Juroku Plaza next to Gifu station in December two years ago and National institute technology Forum which was held at Nagoya University in August last year. Gifu Kosen has designed as global Kosen from National Institute of Technology since two years ago. Many short-term exchange students had studied at Gifu Kosen and some students studied abroad to have valuable experiences. Study tour to Seattle, USA for 10 days that was started this year was ended successfully. In addition, many advanced course students gave oral presentations and poster presentations at International seminar ESDPR & EE 2019. Participated foreign professors praised presented students.


You will start working at companies or continue studying at advanced course, other university or graduate school. You may have many alternatives in the future. Unanticipated situation will occur since the future will be unpredictable. At that moment, the conception of your life, in other words, you should think how you want to concept your life in the future. Your life is only once, so you always have to act by consideration how you live. When you choose something about your life, you consider the conception of your life and you find out what helps you grow up; moreover you define what you want to do for your future life.


People consider that they find it easy to choose their choices of life when they get older because they have grown mentally. However, it is said that people decide their core ideas around their 20's and they do not change them very much. You consider yourself deeply and make your dream or aim.


In the future, you may find it difficult to decide something for your life. You had better to have your oasis that you are able to look at yourself objectively. You should stay yourself to be in your oasis so that you sometimes need to be free of restraints and stay relax. The type of oasis depend on each person. In my case, my oasis's are spending time with my family and enjoy my hobbies.
I enjoy going to a concert with my wife and I sometimes join bird watching and nature observation meetings. I find it pleasure in meeting people who are not from work.


Gifu Kosen has been adopted Educational Acceleration Program (AP) by Ministry of Education, Culture, Sports, Science and Technology, Japan for six-year-plan since 2014. We have created ICT educational environment, propelled active-learning, and visualized educational achievement for five years. Professors have practiced that students learn initiatively and actively as well as acquire knowledge from professors. This means students acquire adaption to the change of time or solve problems by themselves. That is the ability to be able to accomplish a thing. Since you experienced activities for Kosen 4.0 initiatives, I am sure you already have ability to flourish in the society.


You are always welcome to visit Gifu Kosen to discuss with faculty members if you have to make a big decision. You will have well human network by valuing friends or alumni from Kosen. Gifu Kosen is your spiritual home forever and you are always welcome.


I strongly hope you have your dream or aim high and make effort to achieve your aim. Furthermore, I wish your life would be fruitful and contribute to society. I celebrate that a great future is reserved for graduating or completing students and I pray for your success. Congratulations on your graduation today.


March, 19, 2019
National Institute of Technology, Gifu college
President Yoshito Itoh